Modern Furniture Dropshipping with Kokoon Design

Dropship trendy furniture on your e-commerce site without requiring any stock warehouses or logistics management!
Dropshipping is the natural evolution of B2B commerce thanks to the digital age. This is an efficient system where the seller doesn't need to keep any stock and sell products for other companies, bypassing the middleman and selling them just like any other merchant. The advantage is that the supplier will ship the product directly to the end customer, releasing the online merchant from any tasks other than managing their business.
Let's take a closer look at what Kokoon Design can offer you.
All the categories of furniture available via Dropshipping
How design furniture dropshipping works
Import the Kokoon Design catalogue into your e-commerce site.
By using our CSV files for WordPress, Prestashop or Magento
Your customers buy from your store.
Your customers place orders for furniture from our catalogue, on your e-commerce site
You send the order to Kokoon Design.
As soon as your customer makes a purchase, you send the order to us for prompt processing.
Kokoon Design packs and sends the package.
Kokoon Design receives the order and takes charge of shipping the package to your customer.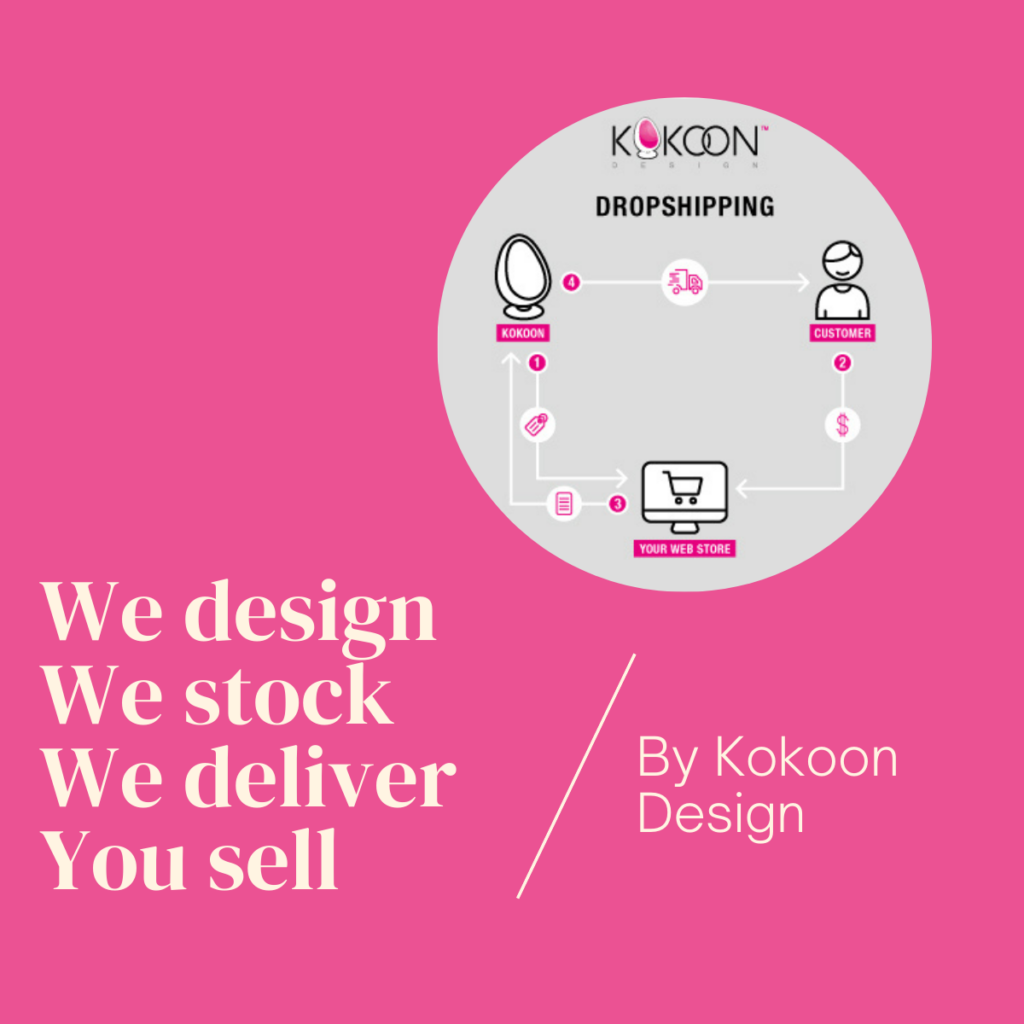 Dropshipping is a service where you can immediately access Kokoon Design's B2B catalogue and sell designer furniture online without having it physically in stock!
All you have to do is send the orders placed by your customers to Kokoon Design, who will independently ship the package to your end customer.
With the Kokoon Design Dropshipping service, you can start earning immediately! Simply incorporate our catalogue into your online store and you can immediately sell over 1600 individual items of high-end design furniture
Kokoon Design Dropshipping Service available in 18 European countries
All the advantages of Dropshipping with Kokoon Design
How do you incorporate Kokoon Design products into your e-commerce site?
Fill in the registration form on our website to start selling Kokoon Design products in no time on your e-commerce site!
Our priority is your satisfaction and therefore we offer you exceptional products, great prices, fast and safe deliveries and the best DROPSHIPPING service for quality designer furniture ever!
Easily import our products into your preferred CMS (WordPress, Prestashop or Magento) via the CSV files that we put at your disposal. Product catalogue file with photo URL, descriptions, sizes and quantities.

The tool for importing a CSV file enables you to add several new products at the same time, in a new WooCommerce store or in an existing store.
Bulk importing products to Prestashop will save you a lot of time with our ready-to-use CSV files.

Bulk modifying or integrating on Magento is the best solution. Rather than repetitively opening, editing and saving and wasting a lot of time.
Take your product catalogue administration up a notch.
Professional and reliable
If you want to take advantage of all the Kokoon design benefits for your business, now's the time! Contact us